I did say I was going to launch a competition today, but I changed my mind. There's good reason for it and it will happen, just not right now. Stay tuned!
Insta things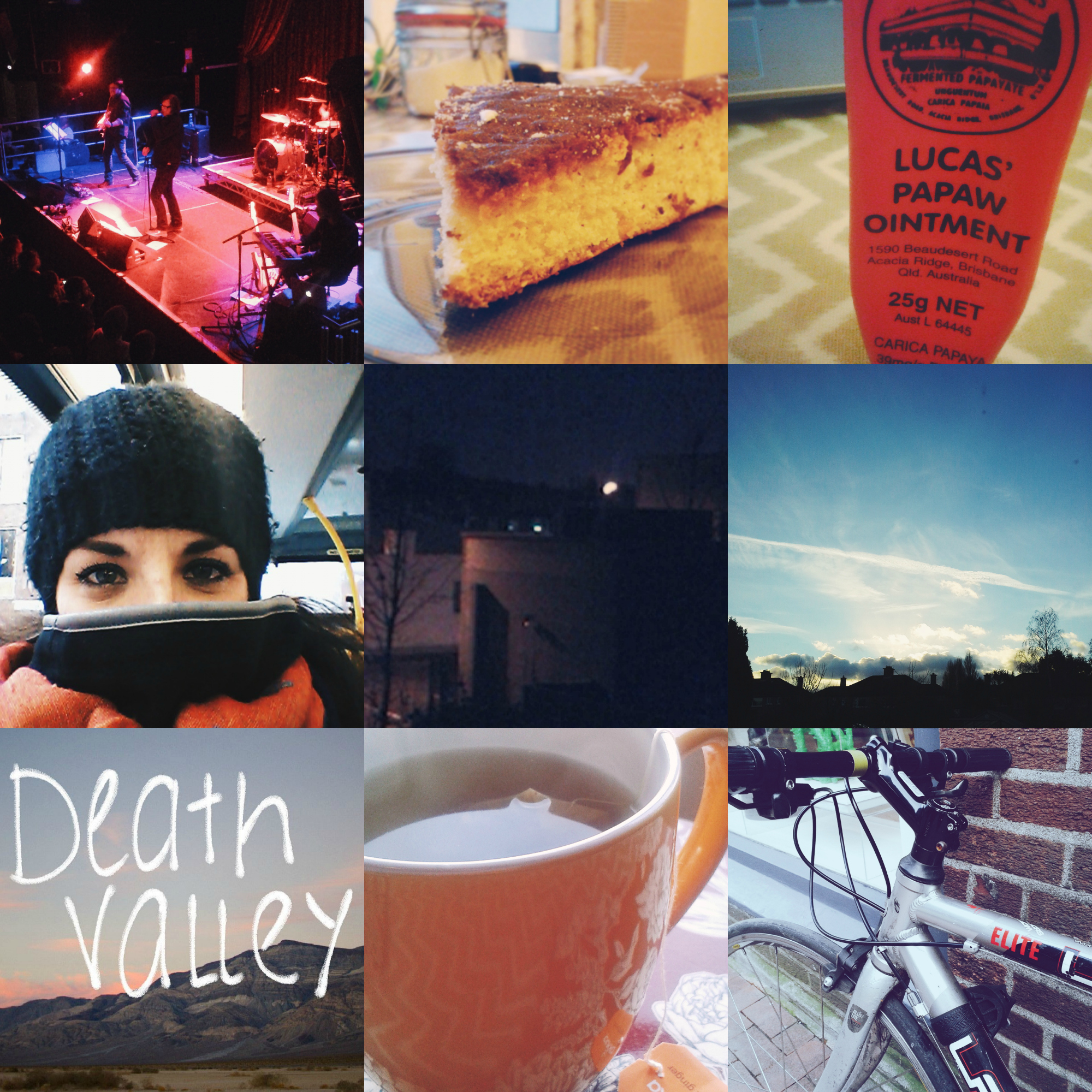 1. Mark Lanegan, great view of a great show. //2. Cake! Antoinette's Bakery, too good! //3. Oh yes, Aussie in my pocket and making me excited. //4. Cold face ninja on the bus. //5. The last bit of the moon this morning, it was incredible. I was sorry I didn't get a photo earlier when it was higher. // 6. Scars in a bright sky, happy. //7. I shared some shots from our day in Death Valley and I'm working on more. //8. Tea, so much tea. Never enough, as long as it's not normal tea. //9. Oh Ziggy, we'll spend more quality time together soon.
Other things
Excited about the shoot I'm about to go to in an hour, I've got a new toy and we're going to play with it!
Reading the Sunday Times magazine in bed, last week's…And One Summer by Bill Bryson. It's huge and fascinating.
Listening to a whole lot of Chet Faker, it just works. And that's a perfectly simple video too.
Eating whole, #30daykickinthewhole to be exact. I fell waaaaaaaaaay off the wagon the last few months.
Not sleeping nearly enough, not even nearly.
Booking clients, like real-life people who want to hire me just for my mad photo skillz…Yah!
Dying to spend more time on my bicycle but I'm too soft and it's too cold right now to be cycling 7+miles at 7am.
Gurning for spring to show it's sweet little face and bring us a little less of these frosty days.
Planning family time and big adventures in Australia, I might jump out of my skin beforehand.