Mother's Day Feature Pt 2 | What are photos worth?
The second part of my mama celebration is up now – first up was the absolutely rock-solid mammying advice from the rock-solid mamas who are doing their thing, struggling and surviving when they have to, winning and enjoying when they can.
My second question to them was basically me fishing for compliments. Well, it wasn't really, but it felt like it a little. I wanted to know how these photos made these mamas feel… Because you know how I am, I want your photos to make you feel stuff, feel real, feel proud, feel powerful…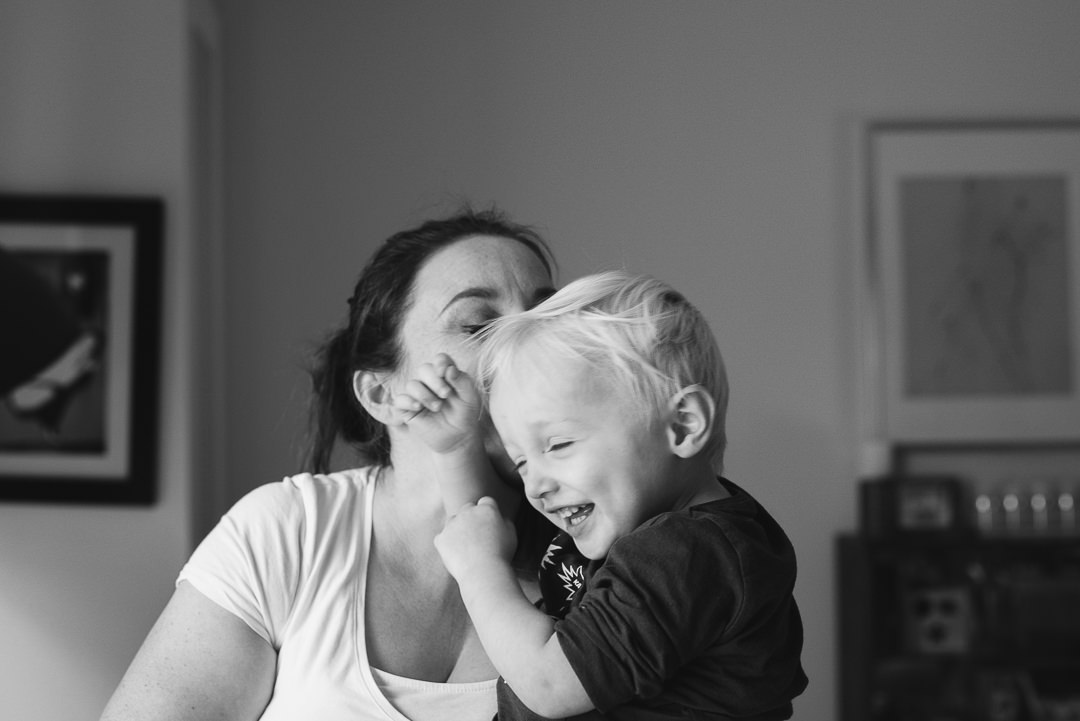 Connections, Closeness, Real life
– perfection in the imperfections …
Siobhán says that the reason she loves the photos we made together are that they are raw, real and totally nailed her relationship with Ollie.
" Life (especially as a parent) is messy. When you look back, it's those moments you want to capture where you were so connected with your baby.
Elaine wore Jack in a sling as a baby and when she realised he was going to be growing out of it soon, she was really keen to get some photos of the two of them. There's a closeness you have with your child when baby wearing, something impossible to put into words, that Elaine wanted so very much to celebrate and commemorate.
Aisling says she feels more nostalgic and happy looking at her maternity photos than her wedding – and I guess the reason for that is there's a stronger sense of real life, and a greater connection to it?
Pride
Looking back now at her maternity photographs, Aisling feels a particular sense of empowerment and pride. Being pregnant is one thing, but being a mother is different and it inspires her to remember the huge journey she's made in the last couple of years.
I'm willing to hazard a guess here, but I think there's an undertone of that pride in everyone's answers…
Pride at having a loving bond with their child, pride at making this tiny human and succeeding in keeping it all together, pride in accomplishing goals together and being true to your word, pride in seeing your whole family looking like their wonderful, beautiful selves and those individual personalities intertwining and becoming whole in only the way family can.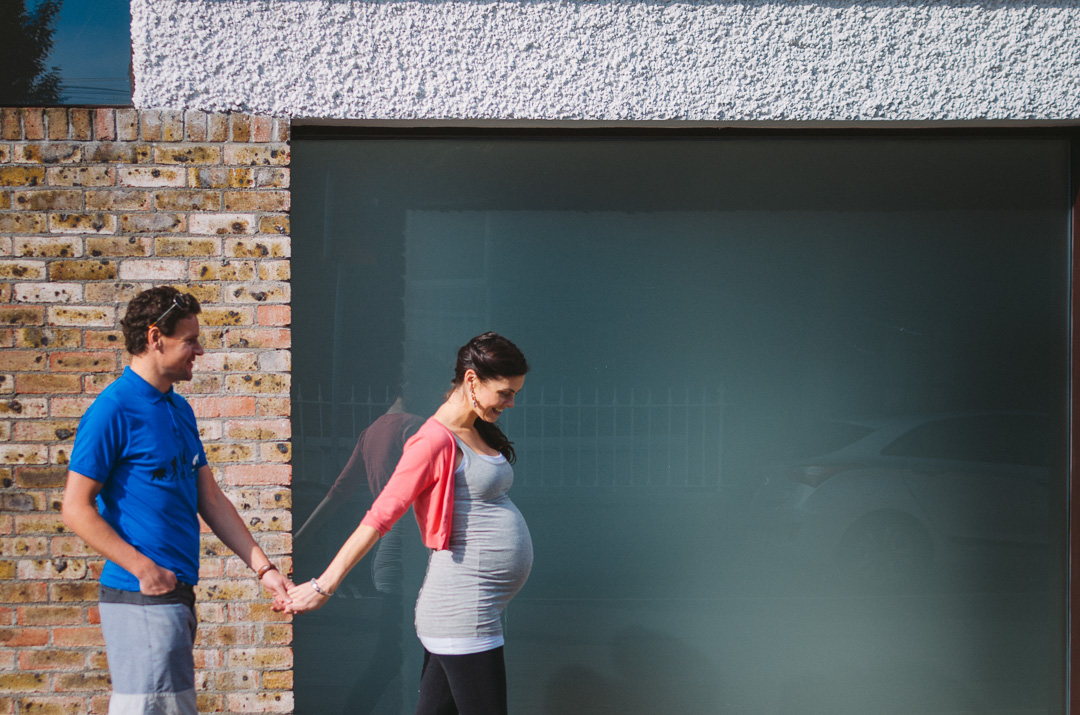 A chance to take it all in.
For Hilary, she said that taking the time to make the photographs and actually just be in it really brought home to her that they'd just made this tiny human and that they were a family. That's a big deal, and in those first few hectic weeks when you're just living from hour to hour, it's nice to take a few moments to breathe it all in – admire your work!
For Desiree and Eric, having photographs of their trip to Dublin was an important, tangible representation of a goal they had made for themselves as parents: to share with Asher the sense of adventure and a broad view of the world by taking him everywhere with them. Their first trip abroad as adults (they're from Florida), was accompanied by him as a 16 month old. And that sense of travel, adventure, empathy and awareness will continue playing a role in his life.
Of the photo up top of Asher with his back to the camera, Desiree says;
"I stood back and watched my wobbly boy walk across cobblestone on the steps of Trinity College. Knowing that we did it, we nailed this goal and this is something we could continue to do for him. That, my friend, is everything…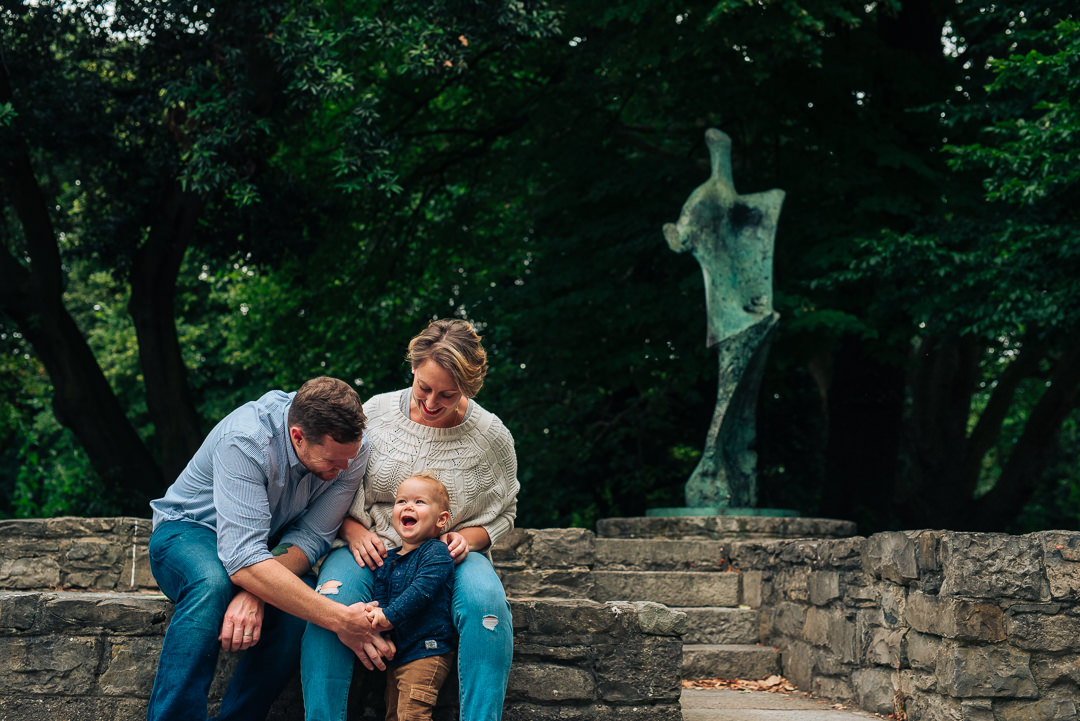 Being in the frame
With cameras at the end of our arm every day, we take more photos now than ever – and babies are such willing and cute subjects, why wouldn't you?! But if you're taking the photos, you're not in the frame.
Deirdre loved that, like Hilary and Desiree, she got to slow down and spend time with Dave and Hugh – celebrating each other and just taking the time to think about how lucky they are. But it was also one of the few times in Hugh's first year that the three of them are in the one photograph.
Capturing that family relationship is so important to me as a photographer, the bond between parents, the way each parent interacts with their children in different ways.
For Carol and her family it was a chance to celebrate her parents' 50th wedding anniversary that brought them all together. Family had traveled from Canada especially for the celebration and while some of her family are into photography too, getting everyone in the one photo and doing having a professional photobook afterwards was really important to them. For Carol, and her mum, showing that photobook to friends prompts great conversations about that special time together and in her own words makes her feel warm, fuzzy and smiley! (I love this!)
So how does that make you feel?
If you'd like to make these memories and share these experiences yourself, click through to get in on the Mother's Day special offer I've got going on – 50% off a family photo shoot fee, for this weekend only.
Firechild Photography | Family Photographer Dublin