While one may encounter many defeats, one must not be defeated. – Maya Angelou
The late Maya Angelou was a … what? A force, a mystery, a gift, a true mother? Yes. And more.
If you've read all the articles and are looking for more inspirational women, read Yes and Yes' Life advice from famous, painfully awesome women.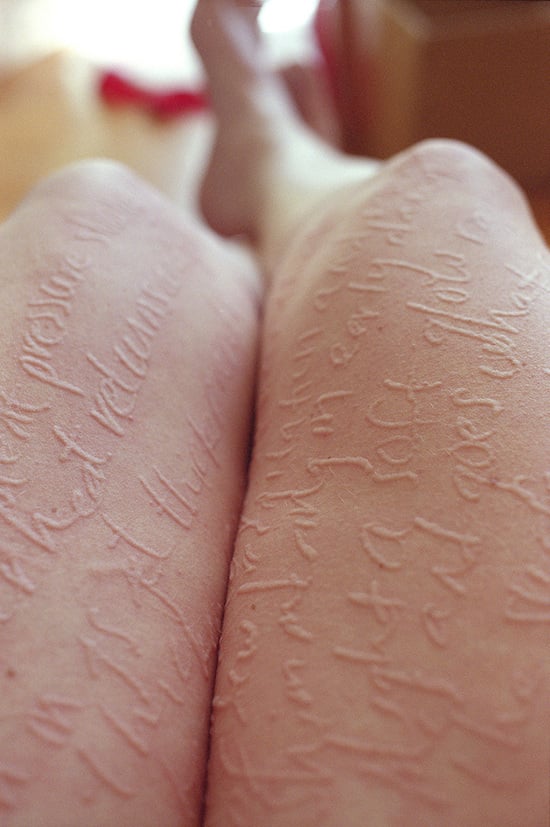 Ariana Page Russel's skin writing is so beautiful. She's turned her allergic-to-touch skin condition into incredible art. It's called dermatographia – her skin develops allergic histamine welts a few minutes after it's scratched. So she uses blunt objects like knitting needles to draw geometric shapes and even gorgeous script on her skin.
(Via Petapixel)
It's summer and so it's festival season, Irish festivals span the entire breadth of summer from June 1st to mid September but there's still plenty that festival organisers could learn from Glastonbury, here's a list of 10 from Golden Plec.
Are we spoilt for choice, paralyzed by the never-ending stream of content and how to and advice? A lesson about choice for entrepreneurs. 
Rebekah Voss is in Vietnam at the moment and attempted to see the entirety of Central Vietnam in one day, easy!
My long weekend is going to consist of drinks, a cocktail party, skyping, newspapers, eating breakfast in new places and naps, sweet!
I hope yours is great too, wherever and whatever you do.